31.05.2021: Bolangir: 
ଅଜା ନାତି ର କମାଲ,
 MYRA Respect The Talent 
Blesson Barik (Age 4 Year), Son of Shri Birakishore Barik, Grand Father: Shri Bhagirathi Barik, Naikenpali, G.P: Sibtala, Balangir. After seeing the talent immediately today on 31.05.2021, we sent Rs.2000 (Cost of Mrudunga Khol) to Blesson Barik. In future we will try our best to support him. Thanks to his Mother Reena Barik and Grand Father and to the entire family. Blesson started playing at the age of two and half years, at that time he was not having any instruments, and just he was using some scrap plastic or Teena etc. Seeing the talent his grand father arranged a Mrudunga Khol @Rs.2000 and that amount it was now a gift from MYRA. Best wishes Blesson we are with you.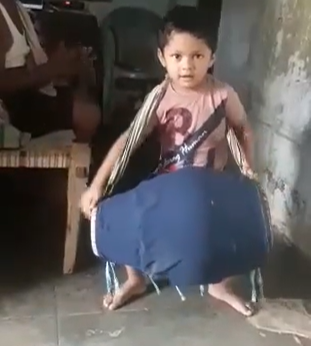 https://www.facebook.com/groups/131075980725172/
MYRA Charitable Trust, Bhubaneswar, Odisha, lndia 
https://www.facebook.com/groups/131075980725172/permalink/803651463467617/
https://www.facebook.com/100000055278744/videos/4419954331349699/